News
French German Women Forum: exchange on entrepreneurship and diversity
Together with the international Business School HEC Paris, UnternehmerTUM organized the French German Women Forum in Garching near Munich. More than 100 executives, founders, experts in technology, diversity, intercultural relations and journalists came together for a joint exchange about the status of women, their know-how and their leadership in companies, organisations and society.
The second Women Forum of HEC Paris, entitled "Entrepreneurship: technology, finance and culture in France and Germany", provided a framework for discussing key topics in the
field of female entrepreneurship, networking with stakeholders and interested parties and strengthening international exchange. The contributions in German and French were simultaneously translated into the other language.

In his welcome address, Dr. Helmut Schönenberger, CEO of UnternehmerTUM, emphasized the importance of commitment to diversity in business and the startup scene. Within UnternehmerTUM, a higher participation of women is pursued by the initiative Women.start.up! He emphasized that more courageous founders are needed to put their creativity and entrepreneurial projects into practice.
A study by the Boston Consulting Group in 2018 showed that startups founded by women are twice as profitable as those founded by men.

Nevertheless, in Europe, the proportion of women in business startups is only 14.7 percent. In Germany, the situation is even worse at 13.9 percent.

The potential of women to successfully participate in business and technology was discussed in four panels. The participants included executives from startups, established companies and organisations, representatives of programmes of UnternehmerTUM as well as from academia and politics, journalists and experts from technology, diversity and intercultural relations.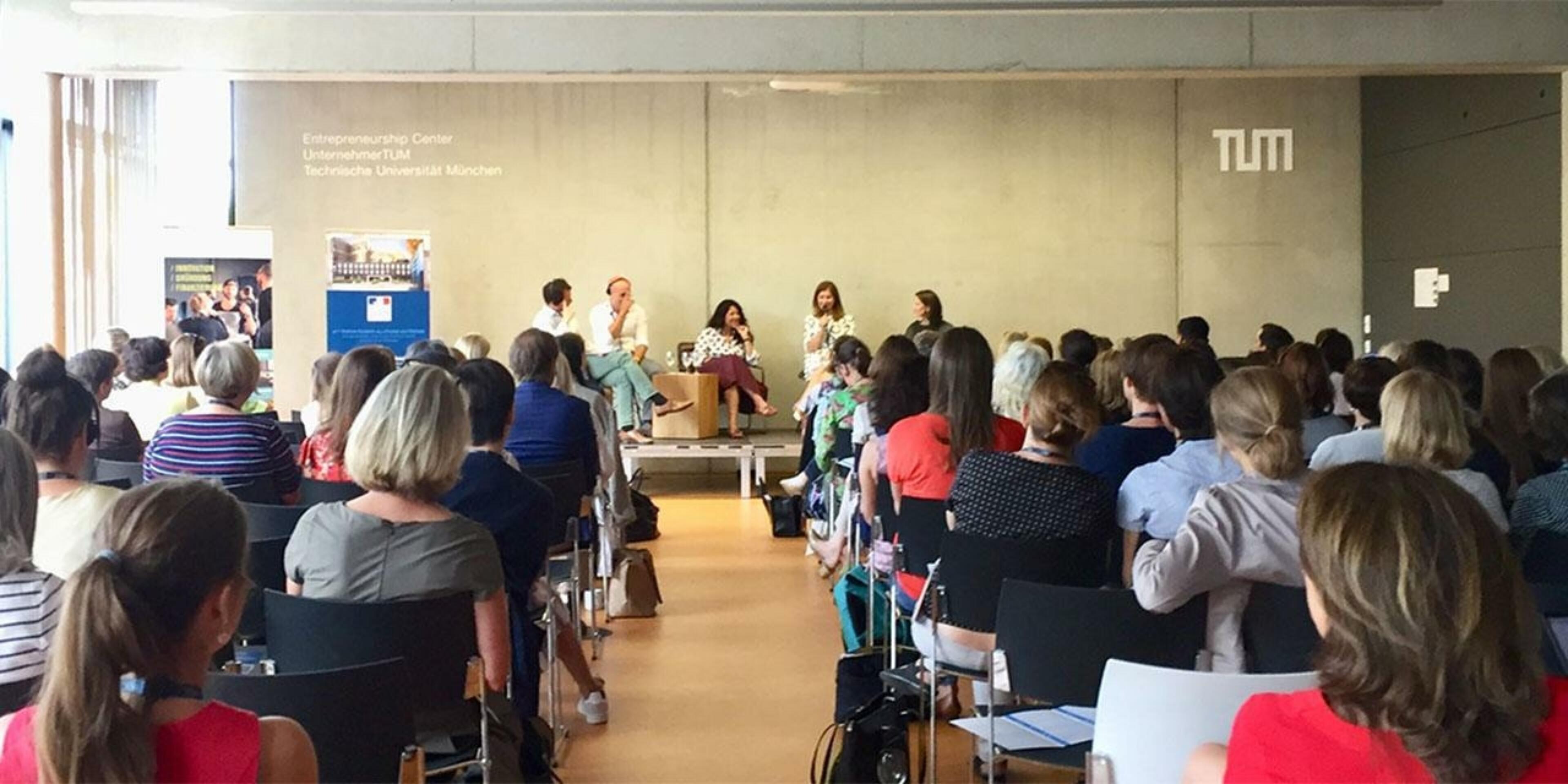 The panel topics:

"Startup and Family: Mission Impossible?"
"Artificial Intelligence: Future trends and the impact on society"
"Venture Capital: Money is flowing but not for women… yet - VC (culture) in France and Germany"

"Mrs. CEO - Entrepreneurial culture in France and Germany"

With numerous examples from their everyday (working) lives, participants from companies and organizations such as CSW digital, France AI hub, Volkswagen, Doctolib and the Technical University of Munich showed ways of promoting diversity in organizations and of building bridges between the private and the professional. Confirmed by feedback from the audience, the forum also offered an important intercultural exchange with a European perspective.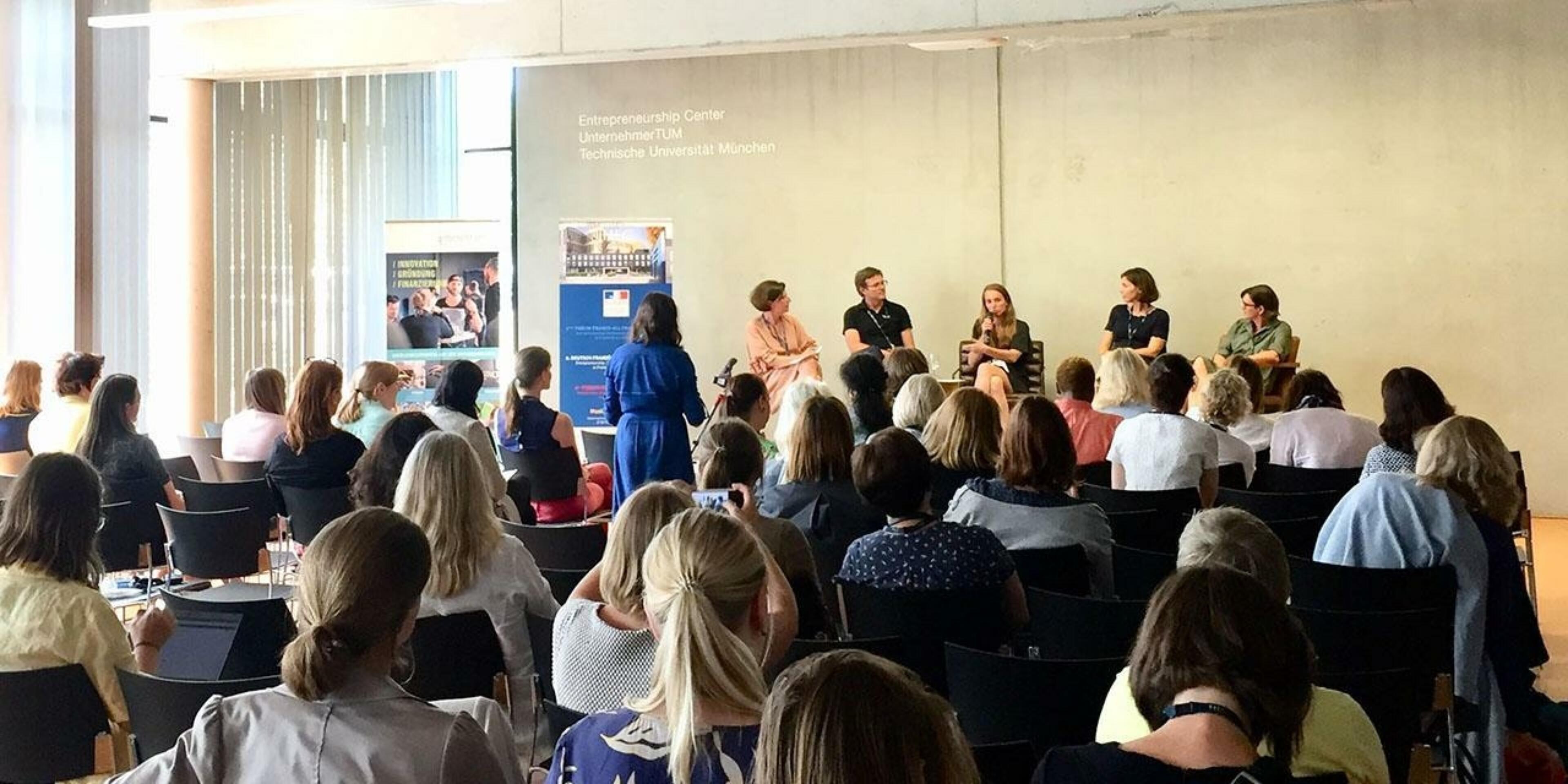 The topic of artificial intelligence was discussed in a socially relevant context. Dr. Denise Vandeweijer, Head of AI Transformation at appliedAI, demanded: "We have to bring the AI discourse into the whole society. AI should not be a "black box"." The panel agreed that values perceived as important by society should be included in the development of artificial intelligence from the very beginning.
In the focus area of venture capital, the participants discussed hurdles for women who present their business ideas to a circle of investors, most of whom are male. One is often confronted with prejudices and products for female target groups meet with less interest despite a convincing business model. According to the experts, gaining a foothold in this area is primarily achieved with courage, assertiveness and the establishment of an own network.
Strategies of internationalization and the importance of an international mindset for one's own business found room in the fourth round of talks. Internationally relevant issues such as the gender gap in management positions and its causes were also discussed.

The panel also showed that language and visual language are important factors that influence career paths. A lot can be achieved by adapting the way in which (female) target groups are addressed. Prof. Dr. Hana Milanov, Professor for Entrepreneurship at the Technical University of Munich (TUM), argued that women often meet different expectations than men and are therefore addressed differently.
Find out more about opportunities for female entrepreneurs and take a look at what our initiative Women.start.up! offers.