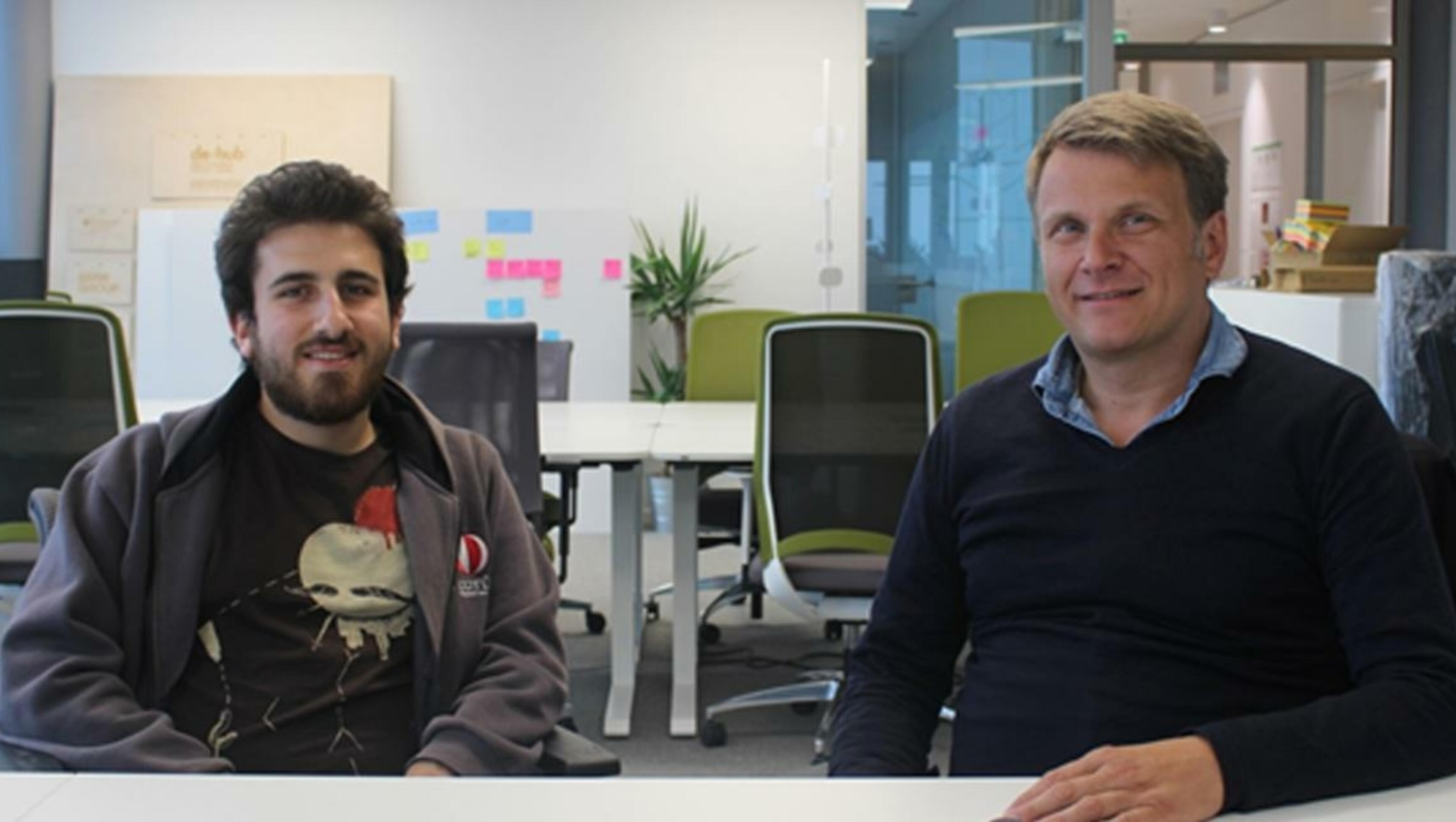 "Erasmus for Young Entrepreneurs" gives new entrepreneurs the chance to enrich their experience and learn from successful founders how to set up and refine their business. UnternehmerTUM, as an intermediate organisation in the exchange program, coordinates and supports the entrepreneurs from the search of the right exchange partner until the end of the collaboration. Today, we will tell you the story of two entrepreneurs, JeanPiere Demir and Stefan Zeidler, and why their cooperation will continue in the future.
New Entrepreneur JeanPiere Demir (left) and Host Entrepreneur Stefan Zeidler (right) at the UnternehmerTUM incubator at the IBM Watson IoT Center in Munich. JeanPiere is an electrical engineer from Ankara with IT professional experience who is going to set up a robotic startup in his home country. He wanted to get more first-hand experience in the robotic business field in Europe:

"I applied to "Erasmus for Young Entrepreneurs" because it gives you big opportunities for growing as entrepreneur. You can see and learn a lot of things, like how to establish your business and how the European business environment works."

The host entrepreneur is Stefan, a Munich-based experienced founder with a professional background in the IT sector. Stefan is now working on the entrepreneurial project "Robot Cloud" within the Xpreneurs incubation program at UnternehmerTUM, a startup enabling autonomous robotics via Artificial Intelligence (AI). Stefan wanted to be inspired from new ideas and fresh perspectives for his business and to be updated on the state of the current research by young motivated entrepreneurs.
Thus, Stefan decided to apply as a host entrepreneur and mentor, to "Erasmus for Young Entrepreneurs" to find someone to join him as an exchange partner. As soon as JeanPiere arrived in Munich, Stefan introduced him to the tech startup ecosystem of the city and to his extensive business network. They then worked together on the product development with a focus on advanced solutions using the AI methods. Here, JeanPiere had mainly the opportunity to deal with prototyping and mock-up creations. Moreover, he benefited from Stefan's experience to bring a product to the market.
During these three months of exchange, the two entrepreneurs have worked together side by side on a daily basis and have learned a lot from each other:
"Stefan has plenty experience, the kind of experience that you cannot find in books or on the internet and he helped me a lot with my project regarding any issue. He also wanted to learn a lot about technical stuff and I always wanted to work with someone like him!" - said JeanPiere.
Stefan was also very happy with the exchange:
"JeanPiere is an autonomous person and he realizes his own ideas. Besides, he is very pragmatic and he immediately started to set up some prototypes. During his stay at our start-up he has worked independently and he had a lot of good ideas because of his entrepreneurial spirit."
To sum up, this experience was - as the participants said - very positive for both: JeanPiere has started his startup in Turkey and Stefan is thinking of participating again to the Erasmus for Young Entrepreneurs program.


"Erasmus for Young Entrepreneurs" is an initiative of the European Commission.
Contact person: Eugenie Wirz, erasmus@unternehmertum.de