Key Topics
"Much more is demanded of women" - Interview with Park Your Truck founder Denise Schuster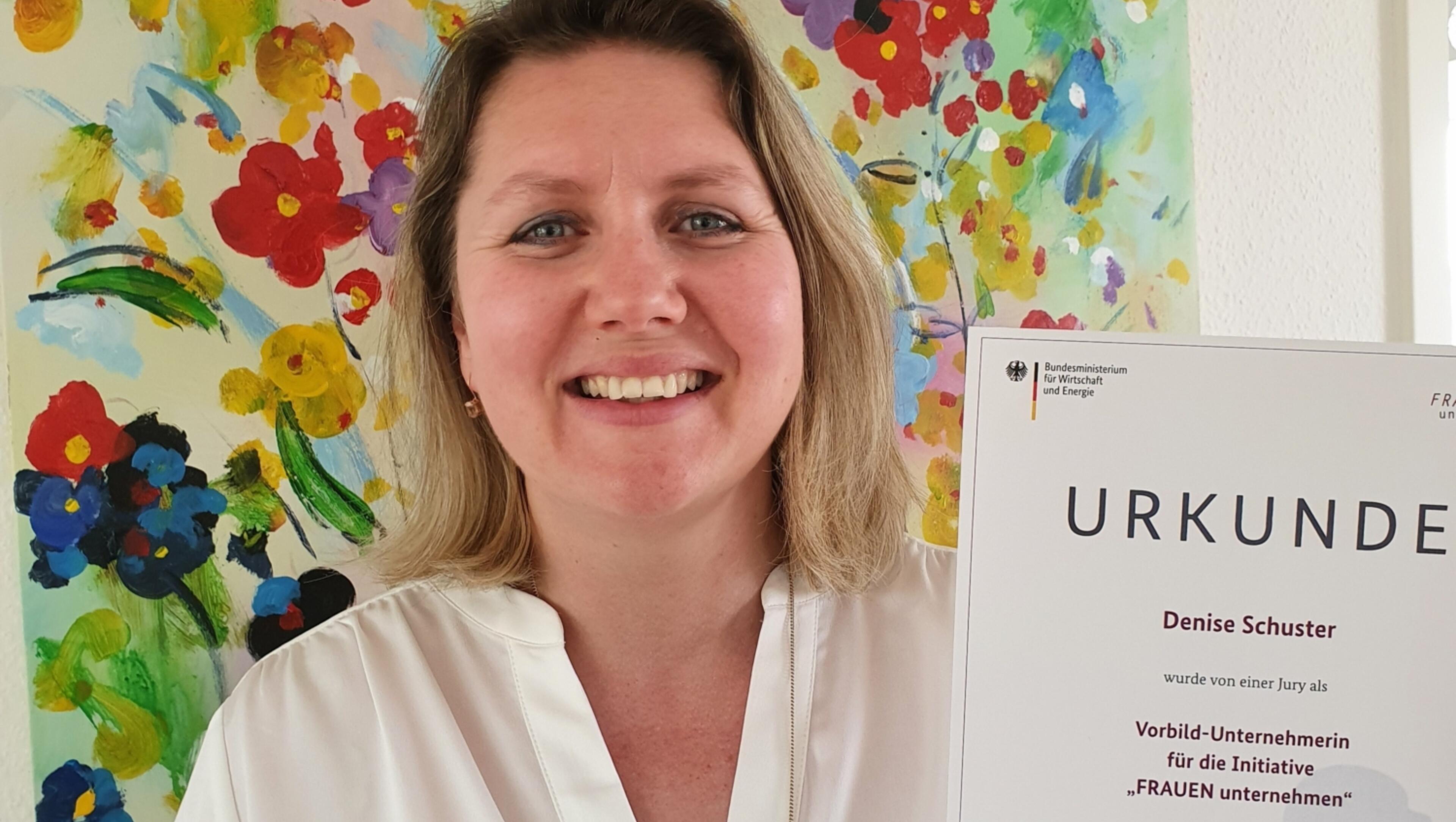 Entrepreneur Denise Schuster wants to teach young female founders how to build their own businesses with passion and dedication. In May 2020, she was honored by German Economics Minister Peter Altmaier (CDU) as a "role model entrepreneur" and now passes on her experience in workshops and lectures as part of this honorary position. Schuster's own career began in 2013, when she founded her first start-up as part of the Executive MBA in Entrepreneurship from UnternehmerTUM and TUM.
Denise Schuster's first start-up, then called "UnserParkplatz.de," was initially an online platform for sharing car parking spaces. Just one year later, the founder realized that trucks in particular face special challenges in finding parking spaces and that the market did not yet serve these needs. Above all, the driving and rest times imposed by German Working Conditions Act make it necessary to get to a truck parking space quickly and in a targeted manner. The founder from Dessau recognized the need for action and put all her energy into adapting the business model. Park Your Truck was born. Just how great the need was quickly became apparent when her first 1000 truck parking spaces reserved at gas stations and rest stops were fully booked within a very short time. The best motivation, then, to continue on this course.
We talked to Denise Schuster about her journey as a founder.
In 2013 you started UnserParkplatz.de, how far have you developed the company in the meantime?
UnserParkplatz.de has now become Park Your Truck GmbH: we are the market leader in Germany in the area of reservable truck parking spaces with over 10,000 parking spaces. This means that we cover a third of the demand with our additional parking spaces. We also solve the wild parking problem in commercial areas with additional forecourt spaces and our own time slot management software. Since last year, we have also been working on reducing parcel service traffic in city centers with newly created micro-hubs and traffic-neutral delivery of parcels within the last mile.
Were there any particular challenges for you as a woman in the start-up scene?
A lot, because the logistics industry, just like the software industry, is very male-dominated and intensely associated, especially in logistics. As a young woman in the industry with new, digital business models, I often had hard times and was only able to score points when people realized that my company and I were no flash in the pan, but that I really wanted to improve the status quo and to make a difference. Very slowly, during many events and lectures, I was able to establish myself in the 'scene'.
What characterizes you as an entrepreneur?
I am very pragmatic and don't just accept the given. I put myself in the shoes of my customers and develop software that is what they want and need. At the same time, I don't necessarily just want to move my company forward, I want to change an entire industry - you can't do that on your own, but only with strong partnerships. I excel at finding these partnerships and sometimes spending one or two years doing persistent groundwork for a cooperation with a company.
How did you benefit from the EMBA for your entrepreneurial career?
In my first degree, I studied business administration with a focus on medium-sized companies, and then in the EMBA I got to know the world of start-ups, which is very different from the world of medium-sized companies. Topics such as financing with venture capital, pitches to venture capitalists or company valuation, which you need as a start-up not only at the beginning, but several times in the first five to six years, I was able to learn and test during my EMBA studies. Without this knowledge, I would not have succeeded in founding my start-up.
What advice do you give to female founders who are still at the beginning with their business idea?
Talk to as many people as possible about your business idea, with potential customers, suppliers and people who could be considered for cooperation. Look at the idea from all sides and take the feedback, change the idea with the feedback and then talk to customers, suppliers and collaborators again. Keep doing this process until the idea meets the needs and requirements. Do this process at the very beginning because it comes in every case and if you first come to market with a vague idea and you spend a year or two trying to establish something that only you are excited about, you will eventually start from point zero. But most founders give up at that point because the money has run out and the motivation has dropped.
How do you see the current situation for female founders in Germany and how do you estimate the chances in the future – are there any positive developments here?
The conditions for founders in general have never been so favorable, especially when it comes to digitalization and mobility topics. Concepts for climate improvements are also very much in demand, and founders who have sustainable ideas are also sought-after. Nevertheless, it is very difficult to obtain capital, and for women it is even more difficult. You usually need male advocates here who believe in you and assure that this woman knows what she is doing. Unfortunately, that is my experience. Much more is demanded of women than of male colleagues, some of whom are less well educated, simply because they are men and can sell themselves better. Last year, a potential investor asked me how I could develop software when I'm not a programmer and how I could write contracts when I don't have a law degree. These questions would not have been asked of a male founder. The only thing that helps here is to believe in yourself, look for supporters and keep going!
Thank you very much for the interview!
Presented by Executive MBA in Innovation & Business Creation, Women Start-up