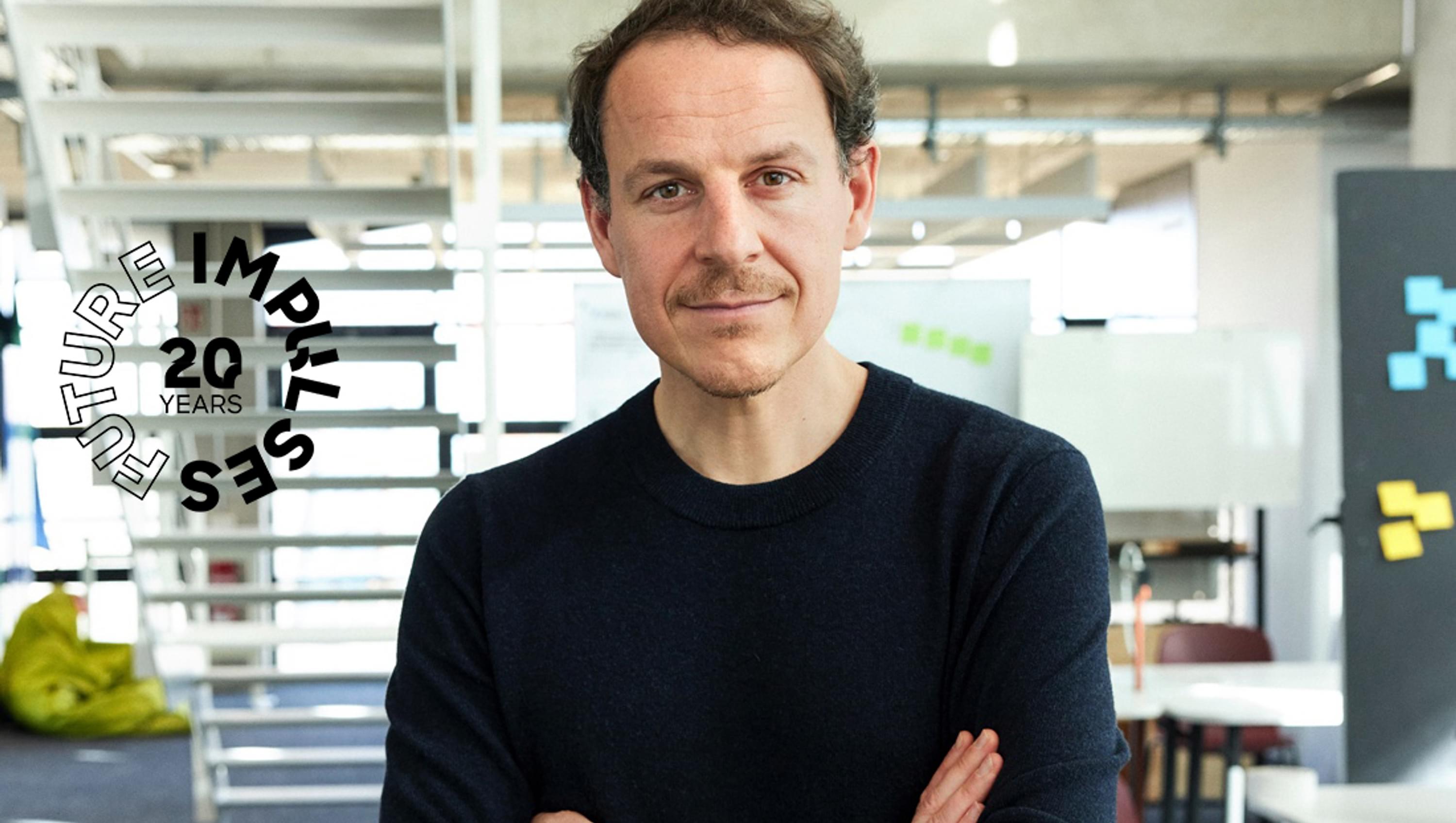 © Copyright: Oliver May-Beckmann/MCube
Since the beginning of 2022, Oliver May-Beckmann has headed MCube, the Munich cluster for the future of mobility in metropolitan regions. He works on innovative solutions for sustainable and transformative mobility with his team, Digital Hub Mobility, and more than 50 partner organizations from science, business, the public sector and society. We talked to him about what drives him and how, from his perspective, the mobility transformation can succeed sustainably.
How does your scientific work in MCube support the transformation to sustainable mobility?
Science matters! This is particularly evident in politically charged topics such as the "future of mobility". Furthermore, excellent research creates the basis for genuine innovations. If we want to implement the mobility revolution, we also need entirely new forms of collaboration. And all of this comes together in the MCube future cluster, which is being funded by the German government with up to 45 million euros. Initiated by TUM, we have brought together 50 leading mobility players from science, business, the public sector, and civil society.
However, this new funding instrument for future clusters no longer envisages pure research but rather the application itself. This means that with more than 100 colleagues - from vehicle technology, urban design, robotics, AI, architecture, social science, and climate protection - we develop, test, and evaluate concrete ideas for the future of mobility and then put them into practice. Whether as start-ups or spin-offs, as hands-on recommendations for action for politics and administration, or as innovative technology or processes for industry.
With our vision of establishing Munich as a European pioneer for sustainable and transformative mobility innovations, we are developing leap innovations here with great economic but above all social impact and high solution potential for global challenges.
What is the most important thing for you about the collaboration between UnternehmerTUM and MCube in the coming years - what do you particularly like about it?
Europe's largest entrepreneurship center and Europe's leading university in the mobility sector, hand in hand for the mobility revolution. What a promise! Together, we are making Munich an absolute powerhouse for mobility innovations.
With its broad range of activities, UnternehmerTUM has created an innovation culture in the Munich region that is unique in Germany over the past 20 years. The Munich ecosystem is now permeated with optimism, a love of experimentation, and the will to develop and implement genuinely sustainable innovation. The work of UnternehmerTUM inspires City Hall just as much as cutting-edge research and medium-sized or family-owned companies.
Together with TUM and MCube, we are now pooling the full range of tools and players to make the mobility revolution a reality. Together, we are implementing truly impactful, disruptive, and bold ideas for the livable city of tomorrow. At a pace needed to mitigate the force of our multiple global crises. And this collaboration with all players within UnternehmerTUM is not only meaningful and highly innovative, but it is also simply great fun.

What do politics, business, and society have to do to really make mobility more sustainable?
We need to become bolder together. We need to speak out more clearly about uncomfortable truths and scientific findings. Above all, in discussions with each other, argue less emotionally and more fact-based. Surely it can no longer be the case in 2022 that political election campaigns are conducted with car drivers against cyclists and vice versa? We are further along in this respect. But we should also keep questioning ourselves and emphasize what we have in common: Countering climate change, strengthening science and business locations, social participation, and a future worth living for our children. That's what we all want. That can only be achieved together. And that is what makes the MCube future cluster special. Together with the automotive industry and civil society, with cutting-edge research and startups, with politicians and activists, we develop innovations, make them tangible and tangible for society and users, learn from many real labs, improve them and ultimately scale them in the region, across Germany and Europe.
Thank you very much for the interview!