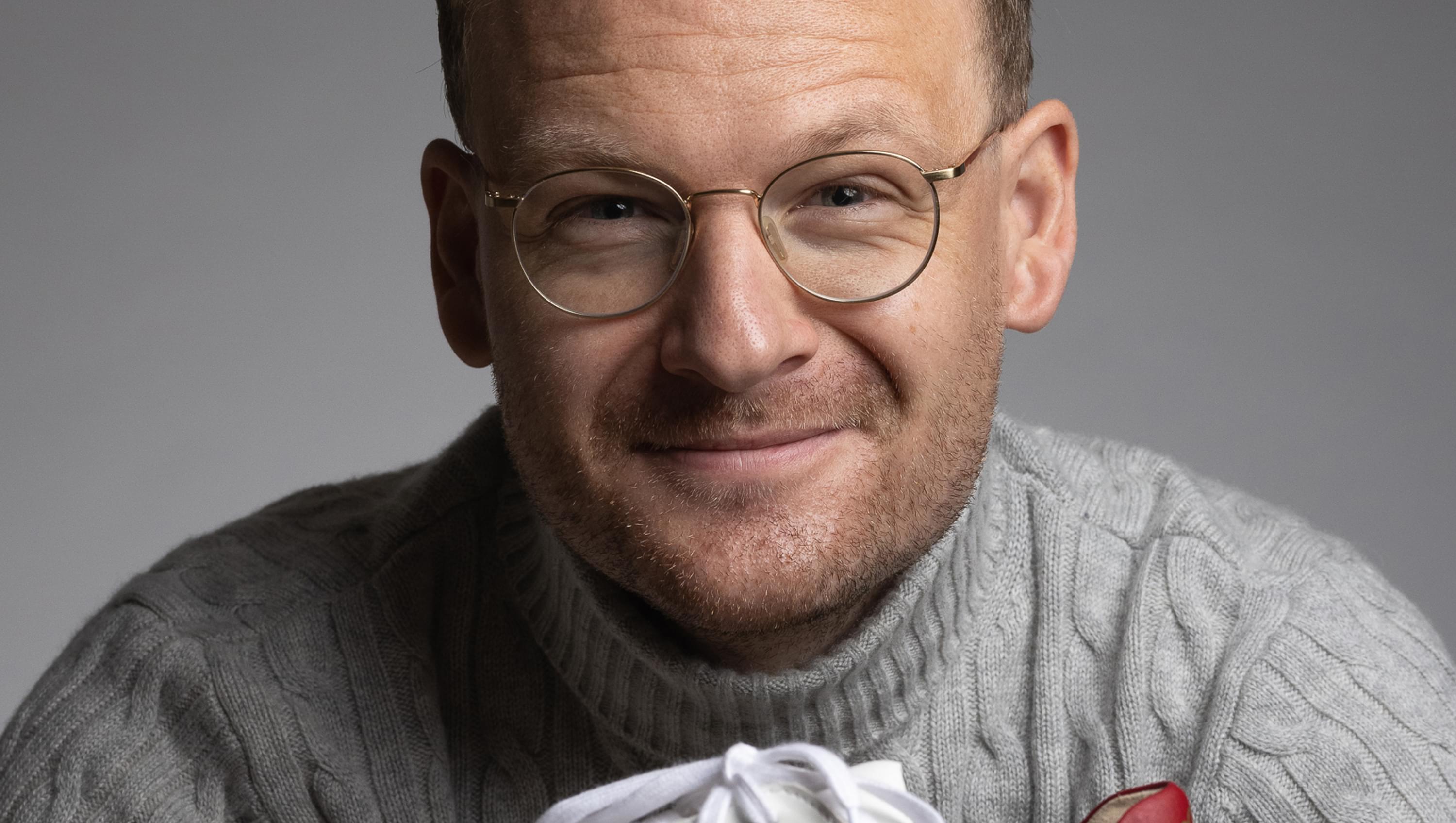 © © Carl Warkentin
As founder of the sustainable fashion label Monaco Ducks, Carl Warkentin knows what it means to make your business circular. With his co-founder Julian Hermsdorf, he built one of the first genuinely sustainable textile companies in the footwear segment and has witnessed the challenges and business opportunities offered by the circular economy. Since January, Carl has worked as Founder Circular Platforms at UnternehmerTUM and is responsible for multi-stakeholder projects at the CIRCULAR REPUBLIC initiative.
In this interview, he talks about his journey to becoming a sustainable entrepreneur and shares solutions for a circular future of the textile industry.
You are the co-founder of the sustainable shoe label Monaco Ducks. What motivated you to start your own business?
I worked in mechanical engineering at Voith after graduating and implemented digitization projects there, which I found very exciting because it was the first time I had worked in an area where you collaborated with many companies and developed solutions with competitors.
Why I'm telling you this: That's precisely what brought me to the circular economy later because it's the same topic here: working together with other companies - because circular economy only works that way. For Voith, I had set up a paper recycling platform for B2B as a spin-off in California. During that time, I also invested in start-ups as Head of Business Development for Digitalization, so I know both the investor and the start-up perspective.
However, I always wanted to do something of my own with impact and realized at the time that the fashion market was the second dirtiest after the oil industry. To that end, shoes, being complex in structure and mainly not containing sustainable materials, are the dirtiest product in the fashion market. At the same time, sneakers are THE lifestyle products of our generation. I thought: If I sustainably innovate this popular product, the impact would be the biggest. So, my founding partner Julian and I started making sustainable sneakers when sustainable sneakers didn't exist yet. We officially launched in 2014, but in 2016/2017, we were established in the market.
What is your demand for sustainable shoes?
Our claim is comfort, durability, and quality - but the design is also essential. We show that sustainability can also look good. The two most extensive buying criteria for most people are price and image, and design is one of the latter. So, in our case, it shouldn't be "wow, that's a sustainable shoe," but "wow, that's a cool shoe and sustainable too." But building up such an image takes much work and takes a long time.
Why is it tough to make shoes a circular product?
In 2021, there was the media project "Sneakerjagd" (Sneaker Hunt), in which journalists with celebrities such as Carolin Kebekus, Jan Delay, Janin Ullmann, and many others started an experiment: their old sneakers were fitted with GPS trackers to follow what happens after disposal, e.g., via used clothing collections, take-back stations such as those run by H&M or Nike, or household waste. The result was that a considerable amount ended up in illegal landfills in South Africa. That's when it became clear to me: even our sustainable sneakers end up right there after their useful life in case of doubt.
Currently, about half of them are incinerated here under relatively good conditions, i.e., thermally recycled. The other half is sent as second-hand to third-world countries, where the people sell or dismantle it to get the metal parts such as eyelets. The sole is often used as an alternative to firewood, harming people and the environment. We started our second company, GRND, with the sneaker hunting team to help minimize these illegal landfills. The idea is to have garbage collected locally and to set up local productions so that, for example, sneaker soles are ground to produce new soles with them. This way, we change something locally and create jobs.
The material is sent back to Europe, and Africa is no longer abused as the world's dumping ground. This also impacts Monaco Ducks, as we want to produce completely recyclable shoes. We use only a few different materials to separate the shoes into their components more efficiently. We also offer a take-back system - which is unfortunately underused.
But the real problem is that the infrastructure for this process still needs to be advanced enough. That's precisely why I came to UnternehmerTUM, to get infrastructure projects off the ground together with the big players in the industry. This works best with a neutral platform like CIRCULAR REPUBLIC.
What are the next steps with CIRCULAR REPUBLIC?
CIRCULAR REPUBLIC was recently established with three pillars - Enable, Act, and Inspire - and I am responsible for driving and implementing circular economy projects in the Act area. For example, we have initiated a textile project focusing initially on sneakers and a battery project to make batteries for electric cars recyclable. It's about more than taking back batteries for recycling but building up a whole infrastructure. The idea is that profitable business models will also emerge from this and be spun off.
How optimistic are you about the future of the circular economy?
I am an absolute optimist, but there is still much to do. If you look at how much has been done in the area of sustainability in the last few years alone and that almost every company is already implementing something here, significant progress will also be made in the next few years.
I like to compare this with digitization: In the 1990s, there were only a few digital start-ups, which was still completely new and crazy for the majority at the time. Within ten years, the entire corporate world has put digitization at the heart of the business. Today, it can't do without it at all. In the same way, I expect that in ten years, we will only be able to survive as a company if we make the circular economy our focus.
I wish that much more will come from Brussels from the political side and the business side with targeted initiatives. Once it becomes clear that the circular economy makes sense, is fun and generates revenue, and is not just "nice-to-have," everyone will jump on the bandwagon.
I am very optimistic that by 2030, all new businesses will have a circular economy, at least in their heart, and we will be circular for the most part.
As an individual, what can you specifically do to make a difference?
Many want to target their buying behavior towards sustainability and buy the eco version from the big suppliers. But: they need to learn how sustainable the products are and have little opportunity to inform themselves fully.
Where I see the individual taking responsibility is in the question: what do I do with my waste, and how much do I generate, i.e., how many things do I have to buy new?
The annual Circularity Gap Report recently came out and showed: We are currently less circular than we were two years ago. Why is that? Many products have become more circular, and more is being recycled - but a lot more is being sold simultaneously. The mass of products has risen sharply and will continue to do so. Right here, it's up to us individuals to buy less and ask ourselves what happens to the product afterward.
And the companies?
About 40% of all products are never sold in the food and fashion sector, so far too much is produced.
I recently heard an excellent quote, "It's not about how we spend it; it's about how we make it." So, it's more than what we buy and spend our money on, but rather how companies produce products and how they do business in general. With CIRCULAR REPUBLIC, we want to show that the circular economy is absolutely exciting from an entrepreneurial point of view. Those who start doing it now will also be rewarded the most.
We at UnternehmerTUM have the best ecosystem to drive circular economy projects forward as a neutral player, trusted partner, and magnet for all companies. My vision is to bring all the major players to the table and develop solutions together.
Thank you very much for the interview!