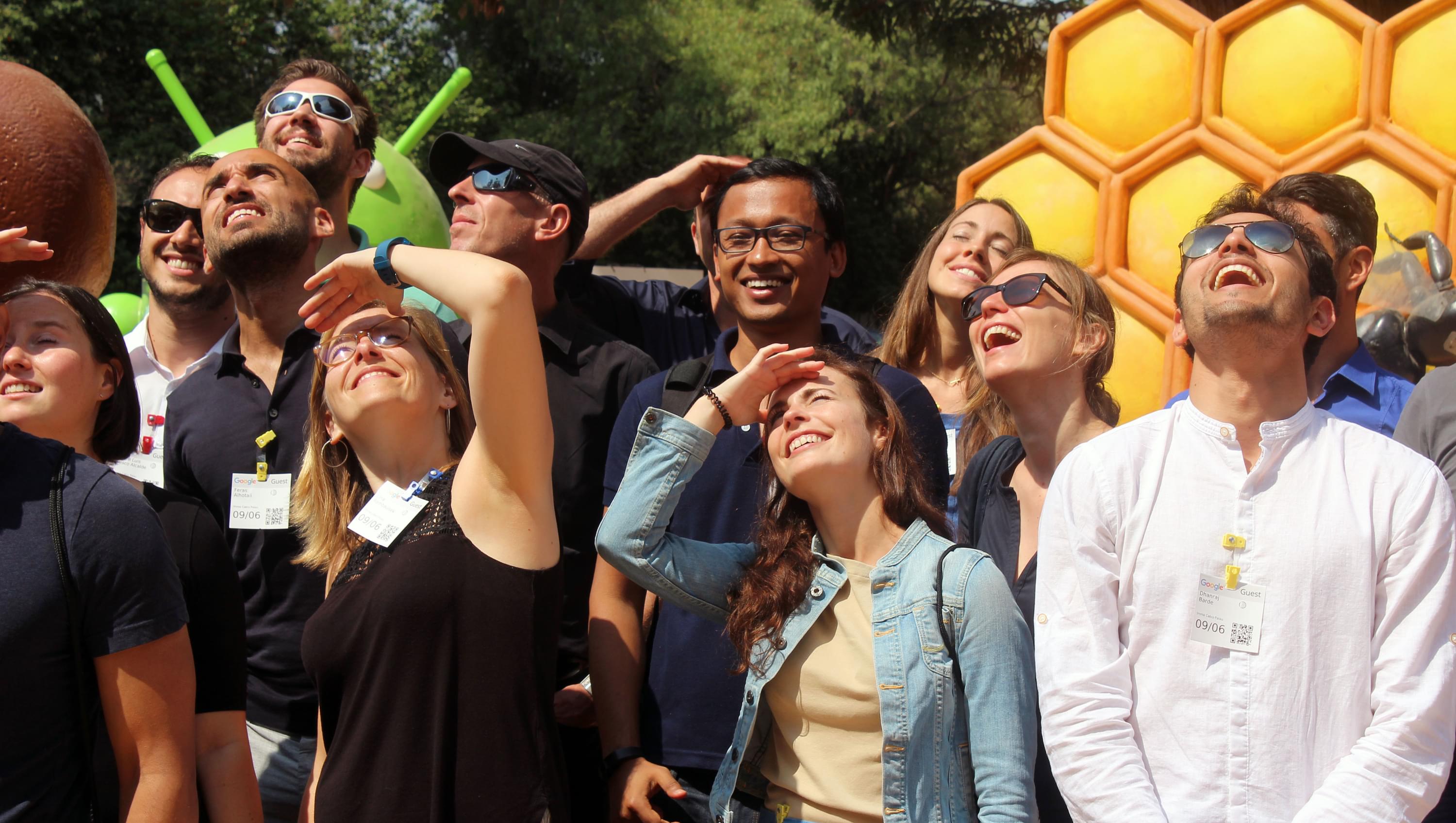 The Executive MBA in Innovation & Business Creation supports participants in developing new business models and putting them on the road. The cooperation between TU Munich and UnternehmerTUM creates ideal conditions for future founders: they do not only receive excellent academic management training, but also practical support in implementing business ideas.
Since the start of the program in 2008, more than 200 participants have completed the Executive MBA in Innovation & Business Creation. Together with their families, 75 of the alumni recently came to Munich to celebrate the 10th anniversary of the program, exchange experiences, reconnect with old study colleagues and make new contacts.
We took the opportunity to talk to some of our alumni about how their participation in the Executive MBA in Innovation & Business Creation has affected their personal and professional development. Five of them told us how the EMBA specifically helped them start their respective businesses and which aspects of the program were of particular benefit to them.
1. New professional perspectives
Everyone who opts for the Executive MBA in Innovation & Business Creation, is enthusiastic about the idea of starting a business. However, quitting an interesting, well-paid job in order to start one's own business and possibly fail is a big step to take. And after all, innovations can also be pushed by medium-sized or large companies as well. The Executive MBA in Innovation & Business Creation prepares soundly and systematically for all eventualities. Being surrounded by startups and having gained first entrepreneurial experience, participants will have no choice but to ask themselves at some point: Do I want to be an employee for the rest of my life? Does my work give me the opportunity to be creative, try out new things and make a difference in the world? No matter what the answers to these questions are, you will raise them throughout the EMBA – and possibly turn your life upside down as a consequence.
Dr. Julia Behnke, Co-Founder, BODYVISER: "This is exactly the program to define what you want to do and how you're going to do it."
2. Access to customers, sponsors and investors
The Executive MBA in Innovation & Business Creation is centrally located at the heart of Munich's startup ecosystem. At the Entrepreneurship Center, where TUM and UnternehmerTUM combine their founding activities, more than 50 startups are launched every year. They are supported by more than 100 industrial partners, an incubation and accelerator program as well as a venture capital fund. Accordingly, participants of the EMBA can easily get in touch with potential first customers, investors and mentors – and the chances of gaining (financial) support are good.
Georg Bader, Co-Founder & Managing Director, Vitafy: "Our big first financing round I got through the network ot the EMBA."
3. Learning at the interface of theory and practice
Entrepreneurship is a central field of research at the Technical University of Munich. Numerous scientists and research projects are committed to strengthen our understanding of entrepreneurship, entrepreneurs and innovative organizations. The results of this work flow directly into the EMBA program and are vividly communicated to the participants. The lecturers – regardless of whether their background is primarily scientific or entrepreneurial – always attach importance to communicating their findings in a way that maximizes the practical value for the participants. Thereby, the EMBA bridges the gap between entrepreneurship research and entrepreneurial best practices.
Sebastian Dominguez Kränzlin, Co-Founder & Managing Director, CAALA: "You learn a lot about entrepreneurship from a very academic point of view first – and then you get in touch with all the founders who've done it before and learn from their experiences as well."
4. An active community of founders
The participants of the Executive MBA in Innovation & Business Creation do not only study together, they also work intensively in teams, start joint projects and make lifelong friends. This creates a community which they benefit from well beyond the boundaries of their class and the time spent in the program. The dedicated Alumni Club regularly invites participants to events and ensures that current participants and alumni exchange ideas and inspire each other – and perhaps the next foundation or a new innovation project will emerge right then and right there.
Daniel Burns, Founder and CEO, TESTIFI: "I find it so empowering to be involved with these people."
5. Methodically generating and testing ideas
New technologies, personal interests, societal changes, professional challenges or a simple gut feeling – there are countless sources of inspiration for business ideas. But how do ideas turn into viable business models? The Executive MBA in Innovation & Business Creation provides participants with the means they need to do so: A set of methods and tools, e.g. from Strategic Management and Design Thinking, allow them to efficiently generate and test hypotheses. These skills are not only useful in the context of entrepreneurship, though, they also allow participants to face other professional challenges – and to create new opportunities both for themselves and their organizations.
Sven von Alemann, Co-Founder & CEO, rfrnz: "During the program I got ideas and learned the tools to get out of my comfort zone and found my own company."