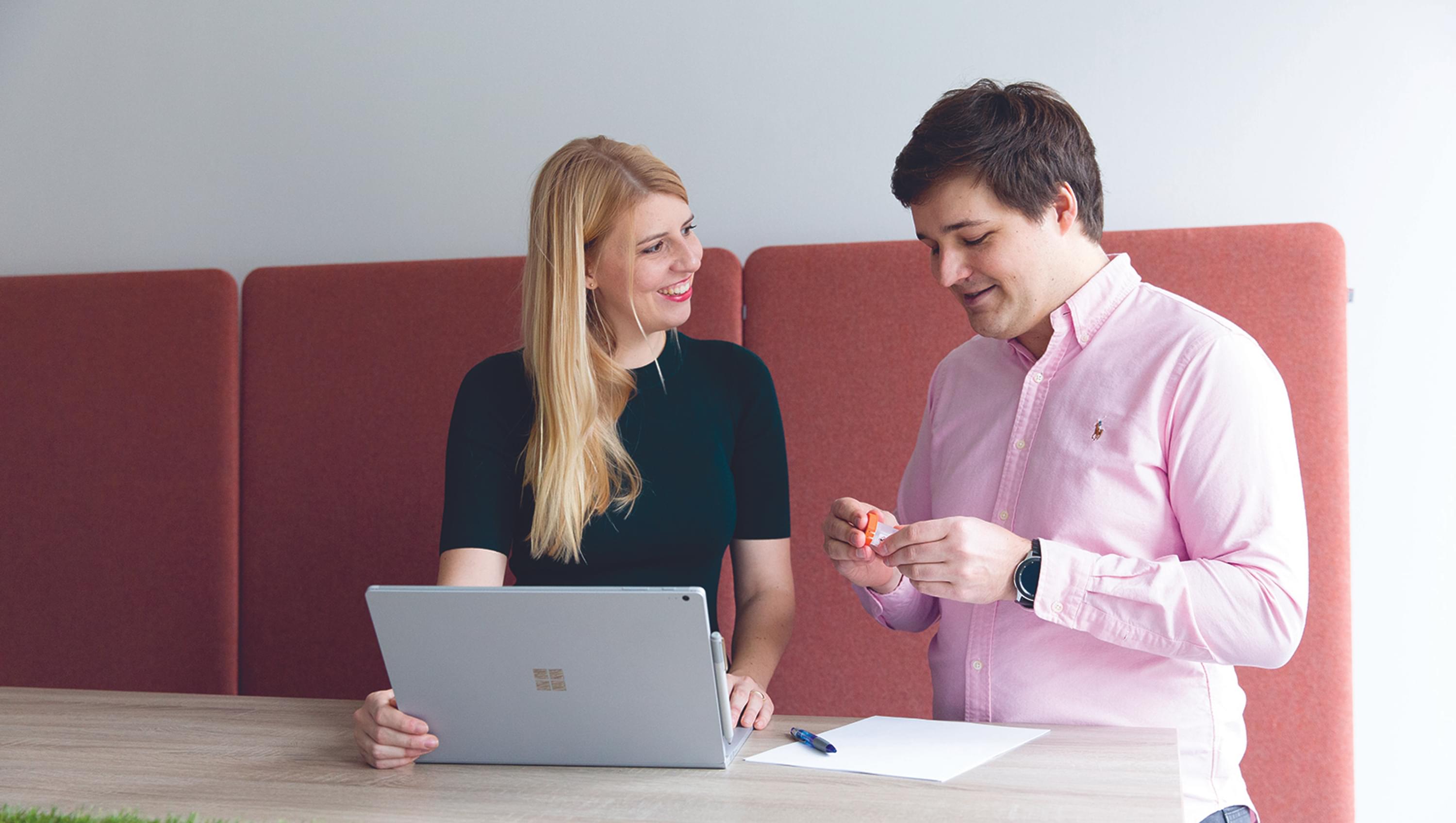 Founded in Munich in 2017, the start-up company inveox headed by Maria and Dominik Sievert has sustainably optimized sample receipt in histopathology. The two met for the first time in our scholarship program Manage and More. They shared the insight that cancer diagnoses in pathology laboratories were very prone to errors. The duo then developed a digitalization and automation solution for sample receipt in pathology laboratories, which not only makes cancer diagnoses faster, but also more precise and reliable: All diagnosis-relevant information on tissue samples taken is documented on an online platform. The inveox automated system scans, photographs and analyzes the sample and prepares it for further processing. Big Data and Artificial Intelligence thus enable personalized and finely layered diagnostics, minimizing false diagnoses and saving costs. We spoke with Maria and Dominik Sievert about their path to their own company.
1. Which were the biggest challenges on your way to your own start-up?
On the way to the start-up that we are today, we had a lot of hurdles to overcome, but we just celebrated so many milestones. We faced a key challenge right at the beginning when it came to finding the right investors. There is much more important here than "just" the financial aspect. In the very lively start-up environment around Munich, mobilizing an investor is only a moderately difficult challenge - but finding venture capitalists who represent the right values, have a similar idea of how to work together, and fit into the company in professional, strategic and human terms is a far greater task. That is why we are particularly grateful that we have succeeded in this. We have investors on our side who are for us equally consultants, partners and close confidants.
Next challenge: finding the perfect team. You won't get far with a big idea and a commercial register entry alone. The tasks that lay ahead of us were complex and we needed a team of experts at our side. Here too, our demands were high. For us, the personal diversity of our team is just as important as the professional diversity. We went in search of talents, people with a passion for innovation who share our values. We wanted to connect young people who research at the pulse of the latest technologies with older people who, thanks to their many years of experience, can channel talents and ideas and support the young team members as mentors. We are both proud of the strong, multicultural team that we now have around us: around 90 full-time experts with vision and foresight from 30 nations, as well as several part-time employees and students from renowned universities.
Building up the company itself was also one of the major challenges, as we both had to familiarize ourselves with a large number of different areas in a relatively short time. The complexity of the tasks does not diminish even with the successive hiring of experts and the scaling of a fast-growing start-up - but that is also the exciting thing about everyday start-up life: No day is like the other, we can hardly speak of everyday work in terms of a predictable constant. Our everyday life consists of ups and downs with lots of movement and sometimes large amplitudes. Over time, however, we learn not only to accept change as a constant in start-up life, but even to appreciate it: You become more flexible, take things more calmly and can pursue your tasks with more peace and focus.
2. Which milestones do you look back on in the meantime?
We could celebrate a lot of big milestones in the last years. There were three successful financing rounds that enabled us to develop and launch our digitization and automation solution for sample receipt in histopathology. There was the building of our team with a steep growth curve - in 2017 we started with two people - today, only three years later, over a hundred bright minds are working together on our solution. There was the opening of our subsidiary in Poland in 2018 and a second office in the U.S. in the spring of 2020. Also an important milestone: the establishment of a large network and numerous partnerships in the start-up scene as well as in the medical and med-tech industry and the increasingly intensive cooperation with experts from renowned university hospitals in the context of research and development partnerships. Last but not least, we are proud winners of a whole range of awards and distinctions - among others, we were named "StartUp of the Year 2017" by the magazine Für Gründer, made it onto the Forbes list of "Most Promising Start-ups 2018" and were among the finalists of the German Innovation Award 2019.
3. What does it mean to you to run a business?
A special challenge for me was and is the fact that as a founder, especially in the early years of a start-up, you play many roles at the same time. You are a business chameleon in a state of constant color change: As CEO, you are faced with the big task of managing the company; at the same time, you are working on the financing and office construction. You are a recruiter and conduct job interviews. In between, you present your company to a Med-Tech panel. Then you dive into the world of contract law, deal with investment agreements and draw up employment contracts until a marketing flyer flutters on your desk for proofreading. At the same time, you are still a person who faces the daily imponderables and challenges of life. As a start-up founder, you are multifunctional and juggle many things at the same time - you need to be as flexible as possible and always ready for the next challenge - even after work and on the weekends. The whole person is always challenged; managing and developing a start-up is definitely not a hobby, but a life's work. In the meantime, we have found our way into this role very well and would not want to miss this versatility.

4. What is your advice to founders who are still in the early stages of their business idea?
Go through the world with open eyes, look for people who have experience and are willing to share their know-how. Build up a network, take support and get advice. Every day we meet so many people who can inspire us and help us move forward. Be open, listen to people - you never know if the person in front of you in the supermarket queue turns out to be the perfect investor, or if the person sitting next to you in the subway is the software developer you've been looking for a long time.
Most important of all: Believe in your ideas, follow your heart and passion and use your talents to do what you really want to do.
5. How do you estimate the chances for start-ups in the future - are there any positive developments here?
In our view, Germany is an extremely start-up-friendly environment with a stable ecosystem and a huge portfolio of development programs for start-ups. For high-tech start-ups such as inveox, the location of Munich with its broad network of industry experts, leading corporations such as BMW and technology research centers is of course particularly attractive. For the near future, I expect a positive development in the start-up environment and a strong growth in the number of start-ups, especially in the healthcare and health technology sector. The industry is changing more than ever before due to the advance of digitalization, and we can only guess at the innovation potential that results from the clash of technology and medicine. Medical technology, particularly in combination with digitization, automation and, in the long term, AI/machine learning, is opening up opportunities in the healthcare sector whose potential for use is only just beginning to be grasped even by the experts. In this respect, I am very excited about many innovative ideas, new impulses and changes in perspective and look forward to the exchange with new entrepreneurial colleagues within and outside our industry.
Many thanks for the interview!